Posts Tagged by
Mushrooms
Happy WIAW friends! My fave time of the week! Thanks as always to the lovely Jenn for hosting!!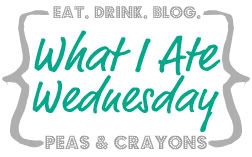 What I Ate

For the first time in TOO LONG, my day featured pudding oats!
Oatmeal, peanut butter (buried under the pudding!) and caramel and dark choc puddings:
(P.S. I got a comment from someone who was overweight and trying to lose a few pounds, about my pudding oats. For those of you who are interested, they CAN have as little as 250 calories, with 1/2 cup oats+water+pudding, but I personally need more than this, so I add milk and nut butter
)
And for the first time in a looong time, I was craving oats again for lunch! So I had banana oatbran pudding with nut butter and bloobs:
With a side of…
Mushrooms stuffed with Sabra hummus and tofu and grilled
Yesterday, I shared one of my current fave snacks, which I had again today:
PB&J rice cake sandwich, but with homemade cinnamon raisin PB!
The thing is, I love PB&Co's Cinnamon Raisin Swirl PB…
…but I DON'T love the price, and all the sugar it contains! So once I ran out, I decided to make my OWN version. And I LOVE it!!
Cinnamon Raisin Peanut Butter
You would never guess this delicious, drippy peanut butter was sugar free, and that would take less than 10 minutes to make! Quick, simple, and totally addictive.
1.5 cups roasted peanuts (I used lightly salted, but unsalted would probably work best)
~2 tsp ground cinnamon
1/8-1/4 tsp salt, if using unsalted peanuts
Stevia, to taste*
1/4 cup raisins

*Everyone's taste buds are different, so adjust to taste! I used quite a lot of stevia to balance out my salty peanuts, so I used 2 packets of NuNaturals stevia and about 15 drops of vanilla stevia, and this made it perfectly sweet
Grind peanuts into peanut butter in a food processor. This should only take around 5 minutes or less to make a smooth, shiny PB.
Add in cinnamon, salt (if using), and Stevia, and process until fully combined. Taste-test to see if more stevia is needed, and add more if desired.
Stir in raisins, or give them a quick whizz in the processer until incorporated. Can be stored at room temperature.
ENJOY!!
This is my favourite nut butter I've ever made! It's so drippy and DELICIOUS!
Of course, it's AWESOME stuffed in dates too!
I ran out of dates yesterday night, so I dashed out to the supermarket at 10pm to get more. Desperate times call for desperate measures!
What I Worked
I GOT TO RUN/WALK TODAY!! And there was NO PAIN!!
(From my Dailymile account):
I love running so much and I felt SO HAPPY to be back out there doing what I love!
I get to do it all over again on Thursday hopefully, and I can't WAIT already!!
Best thing you've eaten recently? Cinnamon Raisin PB!
What was your last workout? Tomorrow I'm lifting! I love feeling strong!
Tell me one thing you LOVE and couldn't live without! Running and the people I love. Ok, so that's two haha!
HUGS and LOVE! <3
P.S. Thank y'all so much for the amazing comments on yesterday's post! Honestly, I was expecting some negative comments/emails about having an eating disorder or something, but I got so much support and positive feedback!! THANK you friends, it means a lot!