Posts Tagged by
Circuits
Happy WEDNESDAY everyone! I have some pretty exciting things happening this week, so I'm literally counting down to Friday and the weekend!
I missed WIAW last week, so hopefully I'll make up for it now with my Tuesday recap of eats and workouts!
I started my morning with a short easy run (in the rain…), and then quickly showered whilst my breakfast was microwaving away.
oatmeal with soy milk and banana, topped with almond butter and natural strawberry jam
Lunchtime involved a grilled vegetable and hummus sandwich…
…followed by a fruit salad and lots of veg
I always get hungriest in the afternoon, and since I train in the evening and eat dinner after that, I have a LOT of snacks! My current fave snacks include my favourite carrot cake loaf (getting my veggies in
) with PB…
…dry roasted peanuts (I am addicted)…
…and bowls of cereal with milk. I have become a cereal addict, and usually have about three bowls at a time!
Shreddies or Bran Flakes with soy milk, and Shredded Wheat or Weetabix with almond milk
My evening session began with a half-mile sprint through the park in an attempt to not be too late for training:
In case you fellow TBBT fans are interested, it was this episode that I blame for making me late:
So so funny!!
Monday's session was on the track, with 10 laps fartlek with fast+short recoveries, and yesterday's session was a mix of longer reps and shorter reps in the trails in the park and woods, which was so fun! We did it relay-style which always makes us faster because we're all so competitive! Even the warm-up is competitive and fast…a 7.03 mile is not my kind of warm-up!
After the session, a couple of us older athletes did this running-specific endurance circuit, which was killer! With sections for arms, core, and legs, it was a great all-round workout, and so tiring!
Seriously, after that day's training I was done!
After collapsing on the couch with a huge glass of chocolate soy milk, I managed to drag myself into the kitchen to make dinner. Tofu stir-fry was on the table in <10 minutes. Gotta love quick+healthy meals!
Followed by a whole punnet of blueberries and half a dark chocolate Easter egg:)
After two hard workouts in a row and then an intense strength session for the first time in too long, I woke up unbelievably sore! I am moving like the people in this video today:
I know a lot of you ran marathons last weekend, or are running one this week, so you can relate to that I'm sure haha!
Is anyone racing this weekend? Anyone doing the London Marathon?! I am racing the 5k Mini Marathon, which is my favourite race ever! I am so excited for it!
What was the last workout/run that left you sore? Yesterday's circuits…getting back into a regular strength routine is definitely going to make me sore for a while!
What is your favourite cereal? Currently, it's Shreddies!
Have a great day friends!! <3
HAPPY WEDNESDAY FRIENDS!! Ok, yes, half of you are probably reading this on Tuesday, because for the sake of WIAW, I have swapped the two days around. I've managed to convince one of my friends that the world has actually swapped the two days. Gullible people are fun!
Anyway, it's time for my weekly contribution to Jenn @ Peas and Crayons' party!!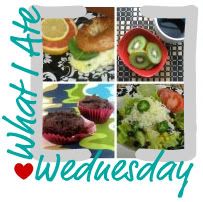 What I Got So Happy About I Wanted To Cry Wednesday
This (from my Dailymile):
I KNOW you're probably all thinking "big deal", but I am obsessed, and last week I couldn't even take a step without pain, so this is PROGRESS people!!
Seeing ma physio on Monday, and I'm really really really hoping for good news!!
What I Ate Wednesday (nut butter edition)
Best. Breakfast Ever. OIAJ. But not just ANY OIAJ. We're talking DOUBLE OIAJ!!
Involving two not-very-empty nut butter jars
And I tried Katie's Voluminous Oatmeal trick (but with 1/2 cup oats) for the first time!! Um, can you say voluminous again?
Filled both jars AND another bowl! LOVE this trick!!
I was definitely digging the volume today. Check out my huuuuge post-workout Chocolate-PB-Banana Recovery Smoothie!
1 large frozen banana, 1 scoop protein powder, 1.25 cups chocolate soy milk, PB, ice cubes, xanthan gum and topped with oats and more crunchy PB.
I also am slightly obsessed with nut butter making.
Apricot-Cashew Butter
1.5 cups (about 200g) roasted unsalted cashew nuts
5 large dried apricots, chopped
Process your nuts until creamy. And I mean creamy. When it looks done, keep processing for another few minutes!
Soak your dried apricots in boiling water for about 5 mins for easy chopping and softness, then chop into small pieces.
Add to the blender and give a quick whizz. (I like there to be chunky bits, so I only processed for about 5 more seconds, but it's up to you). ENJOY!!
Obviously, I eat it straight off the spoon. Mmmmmm…

Or inside a date of course!
So basically, everything I've eaten has involved nut butter. Two more cases in point:
Nanner with Dark Chocolate Dreams
Medjool dates stuffed with PB&Co Crunchy and WCW and chocolate chips.
I really think I need to increase my fat intake, because clearly I don't get enough.
What I Worked Wednesday
30 mins HITTs+High Cadence Intervals on the bike, and a 45 min circuit workout from the Fitnessista! (found here) It was seriously awesome!! Hello tricep dips and face of pain…
It was such a good workout! Try it you guys!! Oh, and I've had a lot of requests to share my High Cadence Interval Workout, so here it is:
Runner's High Cadence Interval Workout (for indoor bike)
Recommended by my physio (who is a runner and triathlete), this is great cross-training to help increase running turnover/cadence and endurance.
3 mins @ moderate resistance, 80-90 rpm
1 min @ moderate+1 resistance, 95-100 rpm
30 secs @ moderate+2 resistance (should be quite heavy), 100-110 rpm
30 secs @ same resistance, 110+ rpm
Repeat at least 4 times.
It's so simple, but trust me, it really gets you, especially after a couple of times! The trick is to get the right resistance- not too easy or too hard, and then you'll get a better turnover and all those craaaazy endorphins after!
What I Read Wednesday
I may have sneaked back into the bookstore to finish reading Run Less Run Faster. I swear the guy behind the counter saw me come in and gave me the evils. He knows me too well. I hid brilliantly behind my book though and blended right in…
I may have to actually use my earnings to buy something other than nut butter and my gym membership and invest in this book. IN LOVE.
I know I'm glowing again. Clearly what eating a lot of nut butter does to you
What was the best thing you ate today/yesterday? I'm just gonna say nut butter for this one cos that encompasses all my eats really.
Are you someone who likes voluminous foods? YES. My bowl/plate has to be brimming always haha!
Do you have a favourite running/fitness/health/food/recipe book? This is definitely a good'un! My favourite though has to be Paula Radcliffe's How To Run obviously, purely because I love her.
Have a happy day friends!! Love you guys!!