Posts Tagged by
Broccoli
Happy WIAW friends!! It's that time of week again to join Jenn and the WIAW party!!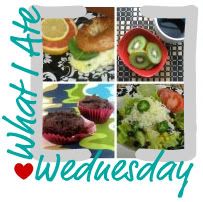 As always, I'm posting my What I Ate Tuesday, so let's roll!
What I Ate
Weirdly, this morning I was craving simplicity. Normally I LOVE having all sorts of awesome toppings, but today I was feeling like having something plain and simple. It hit the spot!
Vanilla Protein Oatmeal! 1/2 cup oats, 1 cup soy milk, 1 cup water, 1 scoop vanilla protein powder, cinammon, and crunchy PB
For lunch, I met up with some family at an Indian buffet. Recently, I've been eating so much Indian food it's practically coming out of my ears! Hey, I'm not complaining, especially when its in buffet form!
There was PUMPKIN masala, which I OWNED!! I'm also a dal lover, so I went up about 10 more times for that
Snack time included…
Cereal yoghurt messes with raspberry jam
A banana with Tara's AMAZING chocolate walnut butter!
And THESE bad boys:
I love snack bars. I take them everywhere because I get hungry approximately every 10 minutes and they are healthy and convenient. Sadly, they are also expensive! So I made my own snack bars!
Protein Granola Bars
These make the perfect snack- high in protein, fibre and with the addition of chocolate chips, they'll satisfy any sweet tooth!
1 cup vanilla protein powder
1/2 cup wholegrain spelt flour (any flour should work)
2 cups rolled oats
1/2 cup oat bran
1/2 teaspoon cinnamon
3/4 teaspoon salt
1/2-2/3 cup brown sugar/sweetener (I used 1/4 cup Stevia blend and 1/4 cup brown sugar)
1/2 cup dark chocolate chips
1 cup plain/vanilla soy yogurt
1 package silken tofu (mashed well or blended) , or an extra 1 cup of yogurt if preferred
1/4 cup crunchy peanut butter, or nut butter/oil of choice
Preheat oven to 350F/170C. Grease or line a 9×11 tin.
In a large bowl, mix together all dry ingredients. In a separate bowl mix together wet. Add the wet to dry, stirring until combined. It will be VERY thick, like dough, so feel free to use your hands!
Press evenly with your hands into the pan, then bake for 15 minutes. Remove, cut into bars, place on a baking tray, then bake for a further 10-15 minutes until they reach desired texture. (For extra crispy bars, turn off the oven and leave in for up to 45 mins more).
ENJOY!!
Nutritional Info per bar: 200 calories, 12g protein, 4g fibre
I love these bars!
They are addictive! I blame the chocolate chips
What I Worked
Running with the team today!! I can still run on grass a couple of times a week at the moment with my injury, so I'm making the most of it!
I refuelled as soon as I got home with two favourites- broccoli and chocolate soy milk!
They go together so well…
What is the best thing you've eaten recently? Yummy homemade protein bars!
What are your fave recovery foods? Broccoli and choc soy milk!
Do you have a fave snack bar? Clif bars and Luna bars I think! And the Organic Food Bar is my ultimate fave!!
Have a GREAT day friends!! <3
Next Page »