WIAW: Granola Love
Happy Wednesday friends! It's time for my weekly WIAW contribution!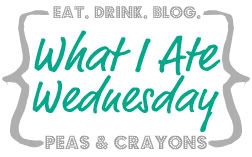 As always, a huge hug for Jenn for hosting WIAWs!
Lately, almost all of my meals have been eaten on the hoof. Breakfast today was enjoyed in the car:
Banana oats in a jar with the rest of the banana on the side. I know it looks like I had a tub of PB for breakfast, but not quite!
Lunch was leftover vegan shepherd's pie with veggies and Sabra hummus for dipping.
As soon as I'd snapped a photo, I shovelled it into a tub and ran out the door. Didn't look quite as photogenic by the time I got round to eating it haha!
One of my favourite snacks recently has been Angela's zucchini bread topped with peanut butter. I love it almost as much as her carrot cake loaf that I made last week, and that's says a lot!!
My other current go-to snack is this clustery deliciousness:
That, my friends, is maple peanut butter granola.
Maple Peanut Butter Granola
Prep Time: 5 minutes
Cook Time: 6 minutes
Ingredients (Four 1/2cup servings)
1 cup rolled oats/ old fashioned oatmeal
1 cup spelt flakes (see note), or more oats
1/4 cup drippy peanut butter (or melt in microwave until drippy)
1/4 cup maple syrup
1 tsp vanilla extract
note: I liked the texture adding spelt flakes gave the granola, but it works just as well with all oats
Instructions
Preheat oven to 325F/160C.
In a medium sized bowl, mix together the oats and spelt flakes, if using.
Add all the other ingredients and stir until well combined.
Spread out on a baking sheet and bake for 6-8 minutes, depending on your oven. It should be golden brown around the edges, and will harden up during cooling.
The whole batch disappeared in two days. Don't ask me how;)
All that granola fuelled me up well for a lovely easy 7 miles in the SUN yesterday! Shorts and a tee for the win!
I also did a full weights routine as well afterwards, and I will be doing that 2x a week from now on! No more slacking on the strength training for me! Strong=less injury!
I'll be doing a full post on my running tomorrow…I have an important topic I want to talk about! So I'll save my usual running rambles for then! But I can tell you now about my new recovery drink! As you may know, I have always sworn by chocolate soy milk, and that has been my daily refuel choice up until now…
Sadly, I needed to cut back on my budget big time, and my chocolate milk habit was burning a hole in my purse. Not cheap when you go through ~6 small cartons a week! So instead, I've turned to this:
I chose the banana flavour instead of my usual chocolate to shake things up a bit;) It's like a milkshake powder, and is basically pure carbs/sugar, so it's perfect! I add it to soy milk and it gives the perfect carbs to protein ratio for optimal recovery. Plus, it tastes pretty darn good too! I'm sure I won't be able to resist buying my beloved chocolate milk all the time, but if I can use this most days I will still save a lot of money!
After my run yesterday, I did my usual strides on grass (I always do these on race week), and my neighbour-friend took a few good photos without me realising! He emailed me them afterwards which was a nice surprise, and this was my favourite one:
And helloooo to my beloved fire shoes! Saucony, I love you.
What is your current favourite snack? Granola and zucchini bread! But not together;)
Do you have a go-to recovery drink/food? Do you have it after every time you exercise? Usually chocolate milk, but now banana Nesquik milkshake thing! I definitely have it after every workout or race, and after most easy runs too, but it depends when my next meal is really. I always have it after lifting too!
Random: What is one thing you are looking forward to this week? Travelling down to and staying in Somerset on Friday and Saturday for English nationals #2! I've never been to Somerset before, but it's sposed to be really beautiful!
Have an amazing rest of the week! <3