WIAW: Exciting News!
Happy Wednesday! Yeah, it's just Wednesday here, so this is totally legit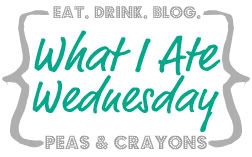 Jenn is a hero for putting so much time and effort into this every week! I love reading everyone's WIAWs!
For the first time today in a looong time I had overnight oats for breakfast! I know it doesn't look pretty, but it tastes so good!
It's Katie's overnight oatmeal recipe and it's always been my favourite! I love it unsweetened (weird for me I know!) with lots of almond butter
There was so much of it that it wouldn't all fit in my bowl haha!
I had a huge bowl of strawberries mid morning. They're one of my favourite fruits for sure!
Today was my best friend's birthday, and so we had a mini party for her. I didn't have time to make a proper contribution last night, so I took a shortcut:
Totally the healthiest thing ever, I know
I just used egg replacer instead of the egg, and it took less than five minutes to throw together. Win. Brownies are addictive, and the slight stomach ache was totally worth the sugar overload today!
Brownies make you faster. Don't believe me? The proof is in the PR:
Now you have scientific evidence that brownies are the best pre-run fuel. Honestly this was such a great workout for me. I feel like a made such a mental breakthrough and built confidence!
I actually ran that workout with only one spike in one of my shoes, and only two in the other, which felt a bit weird! Clearly I didn't screw them in tightly enough last time, and they must've fallen out without me noticing haha!
Recovery dinner was a white+sweet potato bake…thing. It was pretty random, but tasted good!
With all my favourite veggies: broccoli, baby carrots, and green beans.
And my exciting news?! Well here's a clue for you…
Just in case my awesome photography here isn't making it clear..
…a certain someone is currently a reserve to represent my club and GB in the European Club Championships which are probably going to be held in Italy this year! I am so thrilled! To be the actual representative, I would have to beat a girl who has been training with my team since she was ten…so y'know a slight head-start on my four months
(I'm not excusing that by the way- she is definitely faster than me regardless of her experience!) Also I've never raced 3000m on the track before, or actually done any track races at all! So I've no idea where I'd be time-wise for that, and my selection was based on my XC results. I'm not expecting to get anywhere near this girl's PB, but as a reserve I should still get to go to Italy, and possibly still race, which is exciting!! To wear the GB vest and represent my country is my ultimate dream
I'm trying not to get my hopes up, and chances are I won't be racing unless I beat this speedy girl this season which is seriously unlikely, but I'm just delighted to have been selected, even as a reserve!
Also, it's pretty exciting when you buy a magazine to pass the time on the treadmill with, and then see your name in it! Admittedly it was in small print, but I'll take it!
Athletics Weekly usually feature the top ten race finishers in major races, but I didn't realise that, and so I certainly didn't expect to see my name! I got pretty excited, which is kinda lame I know!
And MORE excitement is that apparently I'm planning on making a round trip of Europe this summer, because today my friends and I booked our trip to Crete!
In less than 20 weeks, I will be there. We found an AMAZING deal, so we are staying in a 5* spa hotel for a week. All food is included, even snacks, and according to everyone on Trip Advisor (love that site), it is amazing! Needless to say, I can't wait!
So I'm off to do a bit more foam rolling before bed. Buying a foam roller was without a doubt the best decision I've made all year. How I lived without it before, I have no idea.
Tell me some of YOUR exciting news! Or just something exciting that has happened to you recently? I've told you mine, now it's your turn!
What was your last BEST workout/run?
Are you going anywhere on holiday/vacation this year? France (including Disneyland Paris yaay!), Crete, Italy possibly, and maybe somewhere else in the UK…we'll see!
Have an AMAZING Wednesday friends! <3
P.S. My comment-reply system has been acting up recently, so excuse my lack of comment replies right now! I am sorting it out tonight so hopefully I should be able to respond to comments again!