WIAW: Christmas Meals Edition
Howdy friends, and happy WIAW!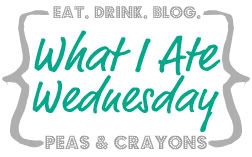 Thanks as always to Jenn for hosting!
Breakfast was awesome, because last night I found a peanut butter chocolate chip muffin lurking in the depths of my freezer, so I saved it as an oatmeal topping for this morning:
Banana oatmeal with cashew butter, topped with a muffin and cinnamon!
Breakfast tided me over right until lunch (rare for me!), which was leftovers from my Christmas dinner!
Leftover roasties, leftover spinach and sweet potato bake (I've posted the veganised recipe here) and leftover spinach from making the bake!
I wish there was leftovers of the chocolate pudding pie that I made, but sadly it was demolished, mostly by us two…
Worth the food baby! Also, for your Christmas dinner, don't make the rookie mistake that I made of wearing a snug-fitting top. It does not conceal food babies very well.
On Christmas, I will be wearing sweatpants and a hoodie I think! Bring on the food baby!
Afternoon snackage/pre-run fuel was two wholewheat English muffins with peanut butter and banana:
Definitely my current favourite snack! I toast the muffin, add toppings, and then zap in the microwave for 15 seconds until it all goes warm and gooey mmmm
*Insert team training: 5×600's. I have four words for you that will sum up how awful this workout was for me: my asthma is back. More on that tomorrow!*
This evening I went out to a restaurant with a group of friends for a Christmas meal. I went straight there from training and definitely didn't fit in with the 'smart-casual' dress code! Messy hair, muddy running shoes, and wearing running tights…really cool!
My meal was not so great either!
Half-eaten, I admit, but all it was was vegetables and a few roasties covered in gravy! Apparently they didn't get the message that I was a vegan (even though I called in advance!) so all they had was vegetables and roasted potatoes!
Oh, and the best meal I've had in a while was yesterday night. Don't tell me this isn't fairly creative or I'll cry.
Half a kabocha squash stuffed with giant wholewheat couscous and veggie sasusage! So random, I know, but trust me when I say this tasted AMAZING!
I have also consumed four lattes in the last two days. That is £10 in just a couple of days on coffees!!
Must. Break. Addiction.
Oh, and I spent all last night updating my Recipes page, so check it out! I'm now using Recipage, which is free, and I love it!
What was the best thing you've eaten recently? All the food from my first Christmas dinner! That chocolate pudding pie…mmm so good!
What was your last workout? I love hearing about other people's workouts!
Coffee or Tea? Coffee!! I'm particularly partial to gingerbread lattes
Have a great day everyone! <3