WIAW: A First for Everything
Happy WIAW friends! This is a first, because for once I am actually posting this on Wednesday!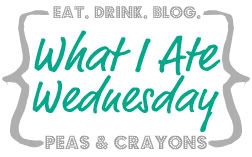 What I Ate
Another first. I skipped dinner yesterday. I got home late from training, and was completely wiped (it was a very hard session!) and lay on my bed to take a little nap…aaand woke up this morning! I KNOW this is bad, and I would never intentionally do it! Recovery nutrition is so important, especially after hard training, and no matter how tired I am, it is no excuse! So lesson learned
Weirdly, even after not eating dinner, I still wasn't hungry this morning! My appetite is WEIRD. Obviously, I still had a good breakfast!
Banana oatbran with PB&J
Lunch was totally random, but delicious!
Baked teriyaki tofu (I just marinated a block of tofu in teriyaki marinade) and hummus on toast x2 with cucumber
Followed by a banana with nut butter:
Just so you know, the optimal ratio of nut butter to banana is 10:1
Back to yesterday! I only had about 15 minutes between the time that I got home in the evening and the time I needed to leave for training, so I quickly microwaved some oatmeal (stovetop is so much better!) and threw some cereal on top for a quick pre-run snack:
That Nature's Path Maple Sunrise cereal is the best cereal ever, and so darn addictive!!
Aaaand then dinner WOULD have been the shepherd's pie I pre-made, but I just had it today instead
Ok, I know I've been promising the recipe for aaages now, but you'll just have to wait a tiny bit longer, because I don't want to post anything that I'm not completely happy with! I'm almost there, so next week without fail, PROMISE!
What I Worked
The hardest workout I have ever done! The 'recovery jogs' inbetween sets became recovery crawls haha!
For an extra challenge, Coach put me with the fast group, which is why my times are faster than usual! And I was taking up at the rear of the group, a good 10 seconds behind most of the others!
And my recap of Saturday's race is still to come! There was a mix-up with placings and stuff which is why I've had to wait to write about it, but I'll be posting it soon:)
What was your last killer workout? That run. Training again tomorrow, but thankfully it'll be less intense after that one!
Oatmeal or cereal? I'll take oatmeal with cereal on top! If I had to choose, it would be oatmeal, but Maple Sunrise comes a very close second!
What are your Thanksgiving plans? See tomorrow's post for a special photo…
Anyway, HAPPY THANKSGIVING for tomorrow friends!! I hope you all have a great one!