WIAW: Running Recovery
Happy NOVEMBER friends! So close to my favourite time of year now!! And it's also WIAW, so double celebrations!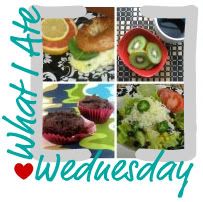 Love Jenn for hosting this!!
What I Ate
I started my morning with a warming bowl of PB & J banana-cinnamon oatmeal:
Yesterday's bowl was banana-cinnamon oatmeal with a crumbled apple crisp muffin on top:
Crumbled baked goods on oatmeal is seriously the best topping ever!! I'm so sad those muffins are gone though- they were definitely one of my all-time favourites!
I've been eating SO MUCH squash recently! I love it and all, but I hate preparing it! Totally failed at cutting it in half…
I used it to make Oh She Glows' butternut squash mac 'n cheese for dinner a couple of nights ago:
AMAZING! It was so delicious, and a huge hit all round! This will definitely become a staple meal I think
I've been really bad at budgeting recently when it comes to food. I blame these packets of roasted chickpeas…
I am addicted.
The daily latte habit hasn't been helping either. I managed to hold off my expensive addiction for so long, but as soon as they bring back the seasonal flavours, I can't help myself!
I had gingerbread again today. Worth every penny
Today when I got back from training, I went to my go-to quick dinner:
Sweet tater with almond butter and cinnamon (best combo EVER!), plus veggie sausages and peas
Followed by chocolate-chip banana bread from Mama Pea that I made yesterday:
The second slice I had slathered in crunchy PB and microwaved until warm, and I was in heaven
What I Worked
Running on the track today! I love the track
I always start out slow, and then build speed, which is the opposite to everyone else! They all shoot off like rockets, but burn out a bit later, and THAT is when I make my move hehe! I was on such a high after this workout!
I have been really focusing on stretching/foam-rolling/recovery recently, and spent a good 15 minutes stretching after the workout.
With so many races and intense workouts at the moment (I am racing both Saturday AND Sunday next week!!), my body is feeling the strain more than ever before, so I am taking extra care to make sure it is recovering well. I took yesterday off, and did yoga on Sunday instead of another run, because my body was telling me to chill.
I am trying to focus on ALL aspects of recovery, from nutrition…
…to getting more sleep…
…to having ice baths…
…to wearing compression socks 24/7:
I swear by them- I think they work GREAT! Yes, it could totally be the placebo effect, but I believe they are really helping with my muscle recovery. I am thinking of getting a compression onesie
What was the best thing you ate recently? Chocolate chip banana bread!
What was your last workout? 1000m track repeats!
What is your favourite way to recover? Napping on the couch whilst watching Gilmore Girls and drinking chocolate soy milk
Have a great day friends! <3