WIAW: A Day in the Life
Good evening guys! How's your day been? Mine has been completely exhausting, you'll see why in a mo! Anyway, Happy WIAW!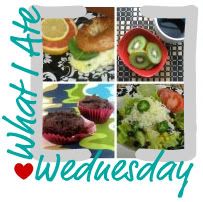 I personally LOVE reading about what goes on in other blogger's lives, so today I thought I'd give you a little look into my day!
6.45 am: Wake up. Get dressed and ready. Grab breakfast to eat on the train and GO!
CCK's never-ending overnight oats in a raspberry preserves jar topped with crunchy PB. I couldn't find a container OR an empty PB jar, so I used a mostly empty jam jar instead! Worked great!
8am: Arrive at the hospital where I am doing my work placement. Spent the morning doing rounds in the wards, and chatting for far too long to a runner who is having surgery for his compartment syndrome. Lend him the book Tara sent for a few hours whilst getting on with other things.
Come back to get the book, and then go again to get some tissues. This is one emotional book, especially for someone who can't currently run! Bless him!
12.30pm: Break for lunch! The cafeteria salad bar was my home.
Also downed some DELICIOUS sweet potato and parsnip soup! Also loved the staff discount there. Wished it was more than 5% though…!
5pm: Commute home. Eat pre-run snack:
Note to self: pack more snacks! I'm used to being able to have my afternoon/pre-run snackage at home and have as much as I want, but by the time I arrived home it was too late to eat more! Lesson learned
6.15pm: Arrive home, and change quickly for running.
Sporting my new compression socks! Worn mainly for warmth (it was SO COLD this evening!) but I am still wearing them now and I have to say I think they are definitely helping with my recovery! My legs are feeling great! We'll see tomorrow morning though I guess
6.45-8.15 pm: Running time! Warm-up 1 mile, drills, workout, cooldown 2 miles and stretching. This was today's workout, and it was a toughie!
8.30pm: Refuel at home with ice cream.
In defence of the hair, it was very windy outside.
8.45pm: Do a happy dance upon finding leftovers in the freezer. Eat dinner:
Leftover homemade vegan shepherd's pie and broccoli
9pm: Make dessert! Chelsey's pumpkin protein muffin and (more!) ice cream:
So so good!! Especially when paired with ice cream…mmm…! Next time, I am adding choc chips though to make it EVEN BETTER!
9.30pm+ : Chill. Read blogs. Write blog post. Sleep at some point. Yup, still working on the getting more sleep thing!
An exhausting day, and I am ready to crash now, but I am LOVING it! Life is good!
What time did you wake up this morning? 6.45am for me! Earlier than I normally would, unless I've got early morning spin.
Do you ever cry at books or films? Books no, films yes! Weirdly, I've never cried at a book, and I am moved by these so much more than films! Titanic gets me every time.
What time do you typically go to bed? At the moment, between 12.30am and 1am. My target for this week is 11.30pm though, so I've got some work to do haha!
Have an AMAZING day friends!!