WIAW: Fuelling a Vegan Athlete
Happy WIAW, thanks to the lovely Jenn!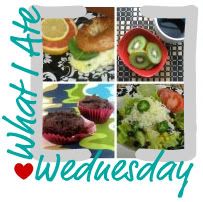 The most common response I get from people upon hearing that not only I am I a vegan, but an athlete too, is one of shock and incredulity. I totally understand, because I remember thinking "what on earth do they EAT?!" when I first heard about veganism as a kid. When my running coach found out, he was actually worried. He is quite old-fashioned and "doesn't understand this no-meat trend" (his words, not mine!), and asked me how can I fuel myself properly. Well let me show you! I have never had a problem, and always have TONS of energy!
Today I had the best breakfast I have had in a long time. I can tell you now that I will have it tomorrow again for sure, and probably the day after that too! It was CCK's Pumpkin Bread in a Bowl (photo courtesy of Chocolate Covered Katie- I blurred mine!)
Only I had mine topped with crunchy peanut butter (obviously!). I also used sultana bran cereal, which made it even MORE amazing!! LOVED IT!!
Mid-morning, I had a PB&J Larabar.
I wasn't a huge fan of this flavour actually, which was weird because the PB&J combo is my favourite!!
Lunch. Was. Amazing. Usually, lunch is my least favourite meal of the day (breakfast is numero uno of course!) but today it was awesome!!
Two grilled WW wraps, filled with refried black beans + vegan cheese, plus broccoli on the side. I LOVE refried beans! I happily eat them straight from the can
Followed by an apple dipped in The Best Nut Butter In The World:
Afternoon snack/pre-run fuel was a toasted banana-honey-PB sandwich:
Post-run, I had my usual chocolate soy milk (unpictured), and then dinner followed soon after:
Wholewheat giant couscous (love this stuff!), haricot beans in tomato-nooch sauce, and more broccoli! I don't think I've quite conveyed enough my broccoli addiction on this blog…especially garlic-roasted…mmmm…
And of course, the BEST bit- dessert!
Katie's Chocolate Bar Pie is definitely one of my all-time top desserts! So rich and chocolately…I love it! With vanilla Freedom 'ice cream' on the side:
Love the taste, don't love the price haha! I am campaigning for them to start selling a PB flavour
I find that is is perfectly possible, and easy (for me at least!) to fuel an athletic lifestyle on a vegan diet. It fuels me well for my workouts:
Aaah hills…such a love/hate relationship there!
I've had tough running workouts two days running, so I think I'll take the day off tomorrow, or at least have an easy day! Getting FOCUSED for some tough races coming up, including National XC Relays…bring it on I say!!
What was the best thing you ate today? Chocolate Bar Pie and ice cream for sure!
What was your last workout? Hill sprints. My quads and hamstrings are dead.
Do you follow a "special diet" (sorry, I hate that phrase!), or have you ever tried one out? Does it work well for you? I've been a vegetarian since I was about 8, and a vegan now for over a year, and I've always felt great!
Enjoy your day! <3