WIAW and a THANK YOU!
Words cannot express how totally grateful and touched I am right now! The comments, emails, Tweets amd Facebook messages about yesterday's post just blew me away! I am so BLESSED to have such amazing and wonderful people as you friends in my life. This is why I love blogging <3
Just after I published my post yesterday, I calmed down with another of my passions…
There's nothing like
focusing on some difficult music
to take my mind off things and
relax me
(geek alert!
)
I felt RENEWED after that! I can
never feel gloomy for long!
And reading what you guys had to say made me so happy!
And today, I spoke to my physio on the phone (I have an appointment booked for Thursday). She said from the sound of it, it is a stress SOMETHING, but it might not be a fracture! Hopefully it's just a stress reaction or something, which is slightly less severe. She also is making sure I get a bone density test.
Anyway, as per usual, time for my
What I Ate Wednesday Tuesday
thanks to
Jenn
at Peas and Crayons!!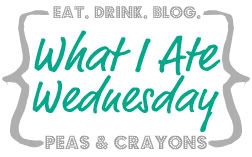 Eats I am LOVING!
Today I'm just going to post some foodie highlights!
Baked oatmeal covered in Justin's Chocolate Hazelnut butter:
That was Katie's Cinnamon Roll baked oatmeal. Deeeelicious!!
Pudding oats! I am SO HAPPY because so many people have let me know that they have tried this too and LOVED IT!! Yaaay!!
With vanilla pudding, caramel pudding, and TJ's crunchy PB
This was the best pudding oats EVER!!
As before, but with half a crumbled chocolate chip oatmeal muffin on top! (The other half was eaten while the oatmeal was cooking
) When the muffin was all stirred in it went all soft and gooey and it was AMAZING!!
I have actually become a total muffin addict! I blame Tara for this!! I was definitely purely a cookie/brownie girl before, but I love muffins too now because they make SUCH good snacks!! Perfect pre-workout fuel
The muffins above are Happy Herbivore's recipe but with a few changes, like added choc chips and no sugar (VERY ripe banana!). They are SO YUMMY!!
I've been loving Averie's microwave banana oat cake:
Quickest and simplest snack EVER!! And topped with crunchy almond butter
As much produce as I can fit in my belly…
…interspersed with handfuls of dry roasted peanuts…
I've just discovered these and they are like CRACK to me!! Seriously addictive and SO GOOD!!
What I Worked!
I have been getting in more early workouts, which is SUCH an achievement for me! I am definitely not someone who wakes up easily at 5.30am! I was NOT keeping an eye on the time though this morning, and ended up having to get out of the gym in five minutes to be on time for classes. That means baby wipes and dry shampoo to the rescue!
Eyes shut…clearly still asleep!
I thought I'd share my elliptical workout from yesterday. It is KILLER and can be done on any cardio machine really.
Killer Elliptical Workout
The hill intervals really work your legs, and the Tabata intervals will set your lungs on fire!
5 minutes warm-up
5 minutes moderate resistance
10 minutes hill intervals, keeping speed the same (1 minute high resistance, 1 minute easy)
5 minutes Tabata intervals (20 secs ALL OUT, 10 secs easy, repeat)
5 minutes cooldown
I repeated this twice for an hour elliptical workout, and then followed with weights, core and stretching.
Embarrassing moment of the day: I thought I was alone in the gym, so I was just dancing away (and I mean DANCING- hands in the air and everything!) on the elliptical in my easy minutes to some quality music…
…but then turned around when I heard applause. Turns out a spin class had just finished and they were ALL standing watching me get my groove on and deemed it worthy of a round of applause and cheering. Wasn't awkward at all…!
And we all know how good I look when I dance
Do you get embarrassed easily? I don't really. I'm kinda used to it, and so the people I'm with end up getting more embarrassed by my stupidity than I do haha!
What was the best thing you ate recently? Pudding oats with a crumbled muffin on top, definitely!!
What is your go-to thing to do when you need to calm down and chill out? Play the viola, run on Betty (wasn't an option yesterday though!
) and eat lots of chocolate. I did that too of course!
THANKS AGAIN for all the advice/love/support yesterday!! LOVE YOU ALL and I hope you have the BEST day! <3