What I….Wednesday!
It's that time of the week again friends. Time to join Jenn's WIAW party!!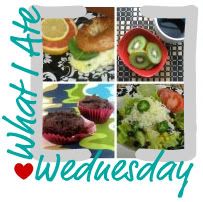 Love. This. Party. I swear I spend half my Wednesday reading other people's WIAWs!
(In case you are new here (hi!!) I always post my What I Ate Tuesday because of those crazy time differences!)
What I Ate
I'm sure you can guess what breakfast was.
Buried under all the vanilla pudding, chocolate pudding, blueberries, and crunchy PB, is banana oatmeal
*Insert a morning spent watching the World Athletics Championships in PJs and eating figs dipped in almond butter*
I took a break from my exhausting morning to eat lunch:
Leftover socca pizza (yesterday's dinner) and cheezy scrambled tofu, with an (unpictured) broccoli bowl on the side!
Have I mentioned that I have an appetite that won't quit? Oh yeah, I told you that in yesterday's fun facts! Well here's the proof in my afternoon snackage:
PB choc chip oatmeal muffin with soy yoghurt. This snack I have had FIVE times in the last two days! That is how awesome it is!!
Amy's Split Pea soup! SO yummy!!
Found these roasted chickpeas when shopping! I got very excited cos I love roasted chickpeas!!
They taste SO good!! I am definitely going to try to recreate these!
Pimped rice cakes x 10000. Topped with drippy PB, maple syrup and strawberry jam.
I love snacking
What I Worked
MY FAVOURITE RUN!! Tempo runs are my absolute FAVOURITE because:
a) You feel like you are FLYING for a long time, unlike short intervals!
b) You feel seriously Kenyan-esque powering past every other runner/person. Until you remember the Kenyans run at like 4.30 min/miles or something equally crazy.
c) They are a great workout! And apparently the best running workout you can do for increasing speed-endurance.
d) They are FUN
Anyway, today's tempo was awesome, but my silly Garmin kept playing up:
Anyway, although I didn't know my exact pace or distances, I know I pushed my pace for at least half an hour, and I was seriously feeling that lactic build up at the end!! FUUUN!!
What I Am Changing!
I am in the process of giving the blog a makeover, and the first bit was completed today! Did y'all notice the new header? Thanks to those who've told me on Twitter or Facebook that you love it!
Here's the old look:
And here's the new one!
I like it SO much more!! Plus it's not as big- my last one took up about half my page!
And a HUGE thanks to the wonderful Emily at The Blog Fairy for this!! She does all things blog-related, so whatever you need, she can help!
So I'm off to munch on my midnight snack now!
Apple with Justin's Chocolate Hazelnut Butter, which I always eat straight from the jar. This is my current favourite (bought) nut butter!! So ADDICTIVE!!
What was the best thing you ate today/yesterday? See above for all of mine haha!
What was your last workout? Tomorrow it's cross-training and lifting time for me!
What is your current favourite nut butter? Actually it's cake batter cashew butter, but shop-bought, it's definitely Justin's! It does change pretty much weekly though!
Have an awesome Wednesday friends!! <3