WIAW- Muffin Style!
Happy WEDNESDAY friends! Unless of course with those crazy time differences you are reading this on Tuesday…! But ANYWAY it's time for the usual…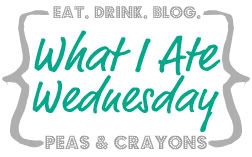 …WIAW party, hosted by the lovely Jenn at Peas and Crayons!!
Banana oatmeal topped with caramel pudding and Julie's peanut butter granola! You HAVE to make the granola if you haven't already- so quick+simple and DELICIOUS!!!
An open faced sandwich (because that was the last slice!
) of hummus, tofu and beetroot, with a PB&J rice cake sandwich on the side
Banana with PB&Co cinnamon raisin PB and more granola (CRACK)!
Lentil stew, brown rice and veggies!
When I was in the States a few weeks ago, I became a LITTLE obsessed with these:
Chocolate chip cookie dough….mmmm… But I have RUN OUT now!! So it was time to make my own…
Using the ingredients list (cashews, dates, chocolate chips and salt!), I simply made my own version based on previous bars I've made:
Chocolate Chip Cookie Dough Larabar (GF, vegan, makes 2 large bars)
Tastes just like the real thing. Only it won't cost $2 a bar.
1/2 cup cashews
1/3 cup dates, chopped
1.5 T dark/semisweet chocolate chips
1/8 t sea salt
Pulse the cashews in a food processor until finely ground. Remove from the bowl and place aside.
Put the dates in the processor and whizz until a paste is formed. Then add in the ground cashews and the salt until well incorporated and a ball is formed.
Add the chocolate chips and pulse a couple of times.
Wrap tightly in cling film and place in the fridge for about an hour. Then form into bars, and ENJOY!!
Those two bars didn't even last a day around me sadly.
And neither did those chocolate chips
I've also been on a bit of a muffin kick recently. I blame Tara. I'm talking about three of these bad boys a day…
…and now it's time to get you addicted too!
Healthy Chocolate Chip Muffins (adapted from the Happy Herbivore cookbook)
High protein, full of a secret vegetable, fat free, and more moist than their Starbucks counterpart, these moreish muffins won't be around for long!
Vegan, makes 12 muffins
3/4 cup wholewheat flour (I use wholegrain spelt flour) + 1/2 cup peanut flour (optional for more protein, or use all WW)
1/4 cup cocoa powder
1 1/4 t baking powder + 3/4 t baking soda
1/2 t sea salt
1 t cinnamon
1/3 block silken tofu
1/2 cup unsweetened applesauce
1 cup sugar or substitute (or less, for a less sweet muffin)
1 tsp vanilla extract
1/4 cup non dairy milk
1 cup shredded zucchini/courgette
1/3 cup chocolate chips
Preheat oven to 350F/175C and line/grease a muffin tin.
Whisk the flours, cocoa, baking powder, soda, salt and cinnamon together.
With a handheld electric whisk, cream the tofu, applesauce , sugar, and vanilla together. Then add the milk, zucchini and choc chips, stirring until combined.
Add the dry mixture to the wet, stirring until just combined.
Spoon into the muffin cups until they are 3/4 full, then bake for 18-23 mins. Let cool on a rack for at least 15 mins, then ENJOY!! (Can be stored in an airtight container for a couple of days, or can be frozen)
Despite the long looking ingredients list, they're all pretty much staples, and the whole process took me less than half an hour! And trust me, it has been SO worth it…
Since they're fat free, I just HAD to add back in that fat with some peanut butter
They also make the BEST post-workout snack with lots of soy yoghurt…
During my run today I was actually DREAMING of that post-workout treat!
It was a GREAT run!!
I then did an hour BodyBalance class, and then lay down on the couch to eat muffins and watch Friends. Perfect night
MIDNIGHT SNACK time now!! I have about 10 bananas going spotty, so there's only one way to go…
Best thing you've eaten today/yesterday? Muffins and Larabars and lots of chocolate chips
What was your workout, or was it a chill day? Tomorrow, I start Stage 2 of NROLFW!! I'm dying to get back to lifting after last week's break!!
Nut butter and _____? Chocolate. Obviously
And then bananas!
LOVE Y'ALL!! <3