WIAW and WIWW!!
It's that time of week again friends! You know it…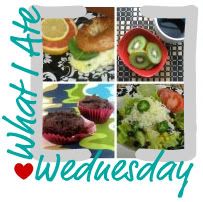 …WIAW party time!! LOVE Jenn for doing this and I look forward to seeing everyone else's WIAWs every week!! Mine is really What I…Tuesday but I'm just rebellious like that
What I Ate
A few highlights from today!
Choco-Banana oatmeal with cacao nibs and a Justin's Chocolate Hazelnut butter spoon! That spoon I brought all the way back to the UK from a Jamba Juice in Hawaii!
Snack:
Crunchy PB and mashed banana on toast- SO GOOD!!
Lunch:
Giant WW couscous, curried lentils, cucumber and cherry tomatoes. Followed by CARAMEL PUDDING with choc chips for dessert
Afternoon snackage:
A Trek bar (refuelling straight after my run) and then a banana with PB&Co Cinnamon Raisin Swirl as a pre-yoga snack, and…
…figs dipped in TJ's almond butter!!
Dinner:
WW spaghetti with protein pasta sauce (1/2 block silken tofu+nooch+salt+spices/herbs) and a bowlful of broccoli. And dessert..
…my last packet!! I savoured every bite
What I Worked
I had the BEST run today!!
I just felt so AMAZING the whole time! LOVE IT and I love my legs for not giving me any grief!!
Love means going the extra mile. So I went the extra mile to a shop and bought some ice.
I'll spare you the pictures
I didn't do it voluntarily- my physio recommended I do this after speedwork and long runs for a while to help my muscles. I also did a BodyBalance class in the evening so I'm hoping no soreness tomorrow!
Tomorrow is my momma's birthday and I'm planning on waking up early to bake her a cake…I LOVE BIRTHDAYS!!
So I'm planning on giving her the Full Emma Birthday Treatment, which includes singing Happy Birthday 10000 times a day and taking her to our favourite restaurant where they stick a turban on your head, give you a Birthday Sorbet, and force the whole restaurant to sing a jazzed-up version of Happy Birthday to you:
My brother still hasn't forgiven me for that incident
Best thing you ate today? Justin's Peanut Butter Cups mmm…
What was your last workout? A run and BodyBalance!
What is your favourite thing about birthdays? CAKE! Obviously
And general birthday HAPPINESS!!
Have an AMAZING day friends!! <3