What I…Wednesday: Hawaii Edition!
Happy Wednesday friends!! Unless you're reading this on Tuesday because of the crazy time differences, in which case Happy Tuesday!
If you are new to the bloggie (hello!), then you should know that every Wednesday I join with the gorgeous Jenn and a ton of other bloggers for this WIAW party!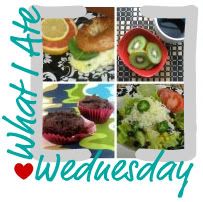 What I Ate
More delicious fresh fruit than I have ever had before in my life:
The pineapple was HEAVEN! NOTHING beats fresh Hawaiian pineapple!!
Acai bowls at breakfast:
There were many MANY servings of sweet potato fries had…
California Pizza Kitchen became my new home:
Roasted vegetable salad, with extra avocado
White bean hummus with honey whole-wheat pizza-pitta bread, and guacamole with tortilla chips. Best guac in the WORLD, no joke!! I would eat that by the BUCKETLOAD, seriously!!
Dark chocolate Coconut Bliss ice cream! The best ice-cream EVER, and that includes non-vegan!! I may have gone back and bought another straight away
One thing I really LOVED about Hawaii (especially Big Island!) was how fresh and healthy the food was, and how many local health stores there were! They provided me with some great on-the-go lunches:
That sandwich was so huge I actually had trouble biting into it! And I have a big mouth
The Cheesecake Factory was also visited a lot! I LOVED the servers there- they were SO friendly and chatty!! I didn't love the fact that their portion sizes were too massive (for me, that's saying something!
) and that they didn't have a non-dairy cheesecake, which is just craziness in my opinion. But the food WAS good though:
Sweetcorn Tamale Thingies (their official name of course
), with guacamole, avocado and salsa verde. SO good!! A huge bowl of pasta followed. It was like a mountain. But it tasted awesome!! Sadly my camera battery died at that point, so you'll just have to believe me about the Pasta Mountain
There was a trip to Menchie's froyo, where they had non-dairy options!!!!!
I am definitely a toppings girl. My bowl was probably 80% toppings!
Toppings were banana, kiwi, pineapple, strawberry, crushed Oreo cookie and tons of carob chips. HEAVEN!
And my first ever proper Peanut Butter cookie!
I love self-serve because then you can choose the biggest one
What I Worked
Run, Weights, Repeat!
I am sloooowly getting back my running mileage!! I am having to work my way back really slowly to avoid bringing back the lurking shin splints, so I'm taking it slow! I'm also having to do 90% of my running on the treadmill, which I was sad about at first, cos I so so badly wanted to run outside properly in Hawaii, but reminded myself that I am grateful to be running at all!! I had a couple of lovely evening beach runs, since running on the beach is totally ok, and it was SO beautiful!
I also had one very VERY hot run!!
I am also making HUGE gains on the weights front!
That is what I LOVE about lifting- you get stronger so quickly! I can lift double what I could at the start of the program in some areas!
What I Bought
All these nut butters…
…and all these bars…
I wish!
Here's a few of my buys…
…and that was just the first day!!
Sorry for another LONG post!! I promise I'll be back to normal length soon once I finish making up for all the missed posts recently haha!!
What was the best thing you've eaten recently? I am addicted to the Peanut Butter Puffins I brought back. They are SO GOOD!!
Do you strength train? Do you take classes/do your own thing/follow a program? I'm following the New Rules Of Lifting For Women program, and I think the results are amazing!! I also sometimes take BodyPump classes, but less frequently now I do NROLFW.
What is your current favourite nut butter? Right at this second, it's Justin's Chocolate Hazelnut butter. To DIE for!
Be happy and SMILE friends!! <3
P.S. Please keep the London riots in your thoughts and prayers! It's happening in my town now and I'm worried lives will be lost soon if things get any worse!