What I…Wednesday!!
HEY guys!! It's time as usual for my What I…Wednesday, which is really my What I…Monday/Tuesday! If you haven't joined this awesome party yet, well…you should!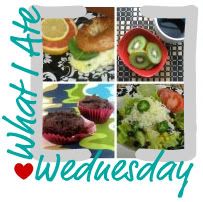 What I Ate!
Peanut Butter Chocolate Chunk pizzert! Made with peanut flour and chunks of this yummy chocolate, both of which the wonderful Jess sent me:
I highly recommend you add chocolate to your breakfasts. Oh, and I also recommend you remember to grease your pan, or you'll just have to be classy and eat it straight up like I did:
So pretty in the mornings…
Another Best Breakfast Ever:
Oatmeal topped with half chocolate and half vanilla Alpro soya dessert pots and more of Julie's peanut butter granola. (I've made that granola 3 times in 2 weeks. MAKE IT NOW it's so darn good!!)
I tried this stuff for the first time, thanks to Lauren!
I tried half straight up and half as dippage with an apple:
Ohmygosh it is AMAZING!! I'm actually kinda glad they don't sell it here though because I am already addicted and at $10 a jar I would definitely become bankrupt!
Of course, there were stuffed dates to be had as well:
Medjool dates with almond butter, microwaved for 20 seconds until perfection
Dinner!
Vegan shephard's pie (x2 servings) plus sugar snap peas. I love making big dishes like these and eating the rest as leftovers for lazy lunches later in the week. So easy!
And dessert was AMAZING!!
Soy yoghurt with PB granola and a PB chocolate chip cookie! I made Katie's AMAZING chocolate chip cookies, but with 1/4 cup peanut flour! You HAVE to make these cookies because they are healthy, make just the right amount of cookies (6-8 cookies) and are seriously the BEST cookies I have ever had!! Just don't ask me why there are only three left right now
What I Wore!
I met up with a friend for coffee on Monday, and she complained last time about the fact that I always am wearing workout clothes and never 'real girl' clothes! Well I showed her haha!
After coffee, we went shopping! I leave on a music tour in a weeks time, so I had a long list of fun things to get, like adapter plugs and luggage tags. But I ended up not getting ANYTHING I needed to, but loads of even better totally unnecessary stuff!
Like this romper (never worn one before!!) but in blue, reduced from £57 to £7!!
And this new Nike workout top which was half price.
Goes well with the skirt I know
I am SUCH a Nike girl! I think I only have one item of workout clothing that ISN'T Nike!
What I Worked!
Yesterday I did the new release of BodyPump (I found the squat, chest and lunge tracks harder than normal, and everything else easier) and also 35 minutes on the bike. Check out these new bikes my gym has:
It is the X Dream bike: "the first indoor fitness product that accurately simulates the experience of riding outdoors". I found it kinda like playing a video game whilst exercising…similar to the Wii Fit sort of thing I guess, and in some ways more challenging than using a regular indoor bike! Quite fun
Today was a rest day. I needed it- my legs were achey! So I did 45 mins of yoga to stretch out, and also 7 hours of shoulder/arm workouts. Yeah, I call that viola playing:
Sure I rehearse with bare feet…I promise you it's totally normal…!
Anyway, I had two hours of rehearsals in the morning followed by a two hour concert…
…and then three hours of rehearsals in the evening for my national competition on Thursday!
Despite the sometimes ridiculous hours like today, it does pay well generally and most importantly I love it! "Do what you love and love what you do"
And talking of doing what I love, I'm hoping that I'll be able to do this tomorrow:
Running again, maybe even on the track!!
I was told last week to stick to the treadmill or grass only, but this week I can experiment with other surfaces, and I can't wait to get out there again yaaay!!
What was your favourite thing you ate/worked today? Breakfasts which are basically dessert, and PB choc chip cookies!! And I think shopping should be a sport really. If you disagree you've clearly never seen me whizzing around a grocery store.
Are you loyal to a certain brand? Clothes-wise I am a Nike person! (Possibly because they sponsor Paula Radcliffe…
) But with shoes I have Brooks, Asics and Sauconys, so I'm not there!
Do you love your job? YES! Ok, so music is a part-time job for me, and I don't plan on making it my career, but I definitely love it! Also I play at a lot of weddings and they usually throw in free wedding food which is always a bonus!
Have a GREAT day friends!! <3
P.S. I keep forgetting to do one, but I've been getting requests for another Q+A post, so if you have any questions, you can ask me on my Formspring.
P.P.S. Giveaway on Thursday! There were some good guesses from you guys but none of you got it! It's gonna be a big surprise!!