What I…Wednesday!!
I've been hiding something from you. I'm sorry, but sometimes things are just hard to say, and there's just never a 'right' time. *Deep breath* here goes…I'm going away tomorrow on a residential nutrition course at a university! I'm so excited (mainly because all I needed to get in was the grades- it's totally free!!!), and it's only for a couple of days, so I'll be back by Friday night! But I hate being away from you guys because I'm not at all needy or clingy…!
Anyway, I have something lined up on the blog, so I won't be totally AWOL
ANYWAYS lets move on to the usual PARTY!! Jenn, you know it. It's time for me to get my butt to the WIAW party!!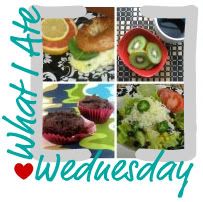 As always, I pretend Tuesday is Wednesday because of the time differences, and it makes life that much more fun.
What I Ate Wednesday!
Started the day in the PERFECT way:
Banana oatmeal (1/2 cup oats, 1/2 banana, 1 cup water, 1 cup soy milk) topped with caramel pudding, almond butter, and JAM too this time!
I swear breakfast is THE best thing ever!! I have no idea how on earth I skipped it in the past. Crazy.
I was actually up and some ridiculous hour in the morning because my postman loves to drop round when I'm still in bed because he loves to see my grin when he gives me a package and that lights up his day. Or it's me in my PJs and bed head that makes him happy:
Definitely the bed head that does it
Anyway it was from the wonderful Jess at Almost Over Now. She is a seriously beautiful and talented person, and look what she sent me!
My bad photos do them no justice, but they are SO awesome!! In her oh-so-sweet note, she said that the cheetahs reminded her of me running in my fire shoes! Awww!! I'm putting these up over my desk this weekend!
And not ONLY that, but this stuff too!
Moo free chocolate which is new to me, Sea Salt chocolate which is my favourite chocolate EVER, and PEANUT FLOUR!! I've wanted to try this stuff FOREVER, and I know it will heal my shins as Jess said!! Thank you so so much Jess!! I am seriously SO thankful and blessed to have so many amazing and wonderful people in my life
Hanging around isn't my thing. You can bet I busted STRAIGHT into that peanut flour and got to work!! (Whilst eating the chocolate…)
Mama Pea's energy bars, made with peanut flour instead of WW flour. These bars are SO delicious!! It has all my fave things in: oats, peanut butter, chocolate chips, dates, and now PEANUT FLOUR!
Aaaand…a Double Peanut Butter Single Lady Cupcake!! SO yummy, and with around 18g of protein, it makes the PERFECT post-lifting snack in my opinion
Ok, well I topped it with White Chocolate Wonderful PB to make it Triple Peanut Butter hehe! This recipe is adapted from Katie's Original Single Lady Cupcake recipe, and I don't normally repost recipes, but I have changed a few things here so I hope you don't mind Katie!!
Protein Peanut Butter Single Lady Cupcake (lightly adapted from CCK's recipe)
3T peanut flour (1/4 cup or 30g)
heaping 1/8th tsp salt (I liked it slightly salty, like salty peanut butter, but use half if you want it normal)
1T peanut butter (crunchy is AMAZING in this!!)
1T + 1 tsp agave nectar
1/4 tsp vanilla extract
drop almond extract
1/4 tsp baking powder
Combine all ingredients, and place in a greased muffin cup (I just put a muffin case in a small ramekin) and microwave for about 75 seconds depending on your microwave. Or use Katie's oven version.
Other eats from today:
Lentil stew and brown rice with (unpictured) brocc on the side for dinner.
Stuffed dates warmed in the microwave. Obviously.
Banana with Dark Chocolate Dreams PB.
Just realised that everything except the lentil dinner involves nut butter. How normal!
What I Worked Wednesday: 5 miles elliptical+ first EVER workout from New Rules of Lifting for Women! (See tomorrow's post for deets!)
I did NOT use those weenie dumbbells by the way! That is a old photo because I looked odd enough being the only girl in the scary weights area without whipping out my camera!
It was TOUGH and definitely kicked my butt! I sure needed that protein cupcake afterwards!
I also ate a hummus+avocado+lettuce roll on the way to the gym as my pre-workout snack.
Why do people give me funny looks when I eat when walking? I'm sure it's cos they're just jealous. Or possibly because I get hummus all over my face, who knows.
What I Danced To Wednesday
I'm sorry, but when the Glee version of Raise Your Glass comes on the radio in the gym changing rooms, I just can't help it.
Only this time I got caught dancing by the cleaner. I know she was jealous of my moves and wanted to join in the fun despite the look she gave me which told me otherwise. Solo dancing= WAY too much fun
Best thing you ate today? Oh, er, EVERYTHING I posted!! Bit of a cop out I know!
What was your workout today, or was it a chill day? I should be able to do a longer RUN tomorrow weeeee!!
Random Q: What are you like with packing? Um, I'm awful. It's midnight and I leave early in the morning and I haven't even gotten my suitcase out yet. And I always pack WAY too much and have to sit on it to zip it up so it'll close !
Hope you guys have an AMAZING day!! LOVE YOU ALL <3