What I…Wednesday! Thankful Edition:)
HEY friends, and welcome to another What I…Tuesday Wednesday! Last week this party of Jenn's got over 100 participants!! Wooo!! Go Jenn!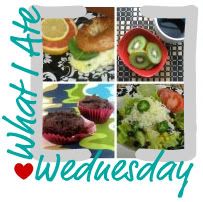 So this week I thought I'd do a slightly different focus. What I'm THANKFUL for Wednesday! So not WIAW but WITW!! There's SO much to be thankful for and it's too easy to just take things for granted, so today I'm going to count my blessings!
What I'm Thankful For…BLOGGER FRIENDS!! Jenn for doing this awesome thang, your comments/emails/friendship, and blogger inspiration! Like Amanda who inspired me to top my oatmeal with caramel pudding…
Which seriously was AMAZING. Caramel Pudding Oatmeal is to die for!! Plus then there was the last of Amanda's yummy banana bread warmed up and topped with almond buttah…
What I'm Thankful For…delicious, healthy meals!
Marinated tofu, sweet tater fries (it's been waaaay too long!!), cucumber, and Sabra hummus for dippage
Katie's Pizzert! A banana-date one!
Haha forgot to grease the pan, so I had to eat it outta the tin!
My favourite salad: Get-As-Much-Produce-As-You-Can-Fit-In-Your-Belly salad, topped with more Sabra spicy hummus. (With the obligatory PB&J toast on the side
)
Peanut Butter Crunch oatbran! My banana oatbran pudding topped with PB&Co Crunch Time and the last of the peanut butter granola.
What I'm Thankful For…the reduced aisle in the supermarket!
BARGAIN!! And I LOVE cherries!! I may or may not have bought four punnets…!
I used one punnet to make these:
Mama Pea's AMAZING Double Chocolate and Cherry cookies, but with added pecans! Oh, and the cookie dough is beyond belief by the way
What I'm Thankful For…help from Facebook friends for post inspiration!
Workout playlist? OKAY then!! Well I actually have a LOT of playlists! I have long run playlists, speedwork playlists, tempo run playlists, easy run playlists, etc, but I'll share with you today's short playlist:
Have I ever mentioned I have the coolest taste in music? This playlist has a mix of everything, from Rock music to Glee, Disney and a Christmas song too. I love being in a Christmassy mood any time of year!
What I am MOST Thankful for today was this moment:
I RAN AGAIN!!! COMPLETELY PAIN FREE!! Being reunited with Betty was a sweet sweet moment.
There were tears, there was laughter, and I grinned like a crazy person the whole time. I think I forgot that it wasn't just me and Betty in the room, but I was too happy to care about the very odd looks I was getting from my fellow gym-users. My first mile in over 4 weeks!!
Did 1 mile slow run, 1 mile walk, 1 mile slow run, 1 mile walk, came home and took Buddy for a walk, including a 1 mile run on grass.
I'm thankful that my running Buddy (haha!) makes sure I don't go too fast! He can't keep up if I go too fast, bless his little legs
So 3 miles run today in a very slow (for me) average 8.30 min/mile, COMPLETELY pain free! I can't remember the last time I ran pain free!! In many ways I'm actually THANKFUL for my injury, for teaching me so much. More on that in another post, but for now I'm just going to drink up my chocolate soy milk (HEALED me I tell you!!)…
…and try not to burst with happiness!! I'm taking it all out on the poor dog right now because he can't escape me hehe
What are you thankful for today? YOU GUYS for sticking with me and being so lovely to me and being my No.1 motivation not to run cos I know you'd all kick my butt!
Best thing you ate today? EVERYTHING I posted!!
What is your current favourite song on your playlist? Definitely the Christmas one! I'm excited already- only 185 days to go!!
Have an AMAZING day friends!! SO MUCH LOVE for you all!!