What I…Wednesday!
I know I know, it's Tuesday today, but it's Wednesday in an hour (in London anyway!
) so let's roll with it!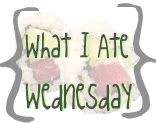 What I Ate Wednesday: Breakfast and Post-Workout Snack Edition!
I got asked to do more breakfast and post-workout snack pics, so here you go!
Yesterday I tried my first ever Dough Boy Smoothie, ala Kath!
It was SO GOOD! I think this'll definitely be my breakfast-on-the-go of choice now! Hot oats still win on the filling factor though….
Today I had my beloved banana oatbran pudding, with raisins and almond buttah
Post workout yesterday, I had a tropical protein smooooothie!
1/2 block tofu, 1/2 scoop tropical protein powder, milk, xanthan gum, pineapple and strawbs. SO good! I then added lots of raw oats which you HAVE to do to your smoothies, cos it makes it all doughy and mmmm….
Post-workout today (short run+exercise class), I wanted something quick! So chocolate soy milk of course…
…and then when I got home, I had some leftover tofu and veggies:
Random, but that's what I was feeling!
Best eat today though?
HH's single serving brownie with extra PB and choc chips. HEAVEN
What I Worked Wednesday- Abs Edition!
Today I have an AB workout for you! Seriously, it's a toughie! I've linked to the moves in case you don't know what they are
15 minute Ab/Core Workout
Repeat twice more!
Seriously, if your abs aren't BURNING after this, then you're either doing it wrong or you have abs of STEEL!
I don't work my abs/core much except for the abs track in BodyPump, so this reaaally hurt! Feel free to collapse afterwards like I did!
P.S. That's a recycled photo. I didn't do my ab workout in the park- people think I'm crazy enough as it is!
And today I went to my first ever Body Balance class! Going to a new class each month was one of my goals for 2011, and I think I'm on track! So far, I've done spin, BodyCombat, yoga, Triple Challenge and now BodyBalance!
I LOVED it, but there was an abs section…OUCH!! I was in pain from yesterday's workout beforehand, but now it hurts to breathe haha!
So now I've got abs down, it's bicep time…
Bicep curls with a 1kg pack of raisins. Curl, munch, repeat. Make that your next strength training workout and thank me later when you have guns to rival Jillian's, because she doesn't know about this killer move.
Overnight Oats or Hot Oats? Overnight oats are nice after a hot workout, but hot oats are just so filling…so hot oats!!
Did you make any 2011 goals? How're they going? Achieved some already woo! But really I'm just thankful I made the decision not to add 'regularly wash hair' to the list because I would've failed big time already.
Random Q: What is your weakest muscle group? Triceps. I don't have any.
Have an AMAZING rest of the week friends!!