What I…Wednesday!!
HEY friends!! Have I confused you? Kay, so I admit it, I've published this post a few hours early, but it'll be Wednesday soon!
I LOVE WIAW's!! Love seeing everyone else's contributions…so FUN!!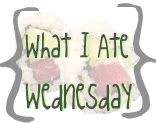 What I Ate Wednesday
There has been some SERIOUS almond butter lovin' ever since I rediscovered it a couple of days ago…
CCK's Banana Bread in a Bowl, but my tropical version (made with coconut milk, coconut butter, shredded coconut and tropical protein powder) and topped with almond butter:
Cocoa-Nut Almond Butter stuffed medool dates x a billion:
And my Banana Oatbran Pudding topped with Cocoa-Nut Almond Butter and strawberry jam, heavy on the toppings!
I think I DID have a meal that DIDN'T involve almond butter (sweet tater with vegan cheese, cannellini beans in tomato+nooch sauce and mushrooms):
But I may have had this on the side to make up for it:
Apples with almond butter. Obssessed.
Last night really fancied a take-out, which is rare cos I love making my own food! I haven't had one in probably a year!! You can tell when someone is beyond lazy when they ARE (half) Indian and yet get an Indian takeout that they could easily make themselves…hmmm…! Twas good though! I had dal (lentils) and rice:
AND got given free wine and lollipops by the lovely guys at the restuarant!! I'm guessing they didn't know I was underage…?
It's okay, I don't drink and I was much more excited about the lollipops anyways!
What I Made Wednesday
I did what all cool young people do. I got up early with the urge to bake, and did.
Don't think I was kidding when I said I lived in my PJ's and workout clothes (er…every photo in this post!!!)
I'm not gonna lie. These are the best muffins I have ever made. They may or may not involve almond butter and a 'surprise'…
…anyway, recipe to come!!
What I Loved Wednesday
I LOVED getting post!! Brace yourselves for another Emma-hugging-the-mail-in-her-workout clothes-or-PJ's picture…
Especially when it was a package addressed to me (there are usually tears if it's for someone else) with a cute little heart drawn on too! Aww!
The BEAUTIFUL Emma sent me a box of vegan choccies that she made!!
I tried one of each. Emma you are SO TALENTED these are AMAZING!!
Aren't they so professional looking?
I was in HEAVEN!! Emma you are a GENIUS and I love you so much!! Seriously girl, you need to SELL these- I would sure buy them!!
What I Read Wednesday
Runner's World whilst on gym machines!
The PAULA RADCLIFFE edition!! Oh YEAH!!
What I Made A Fool Out Of Myself Doing Wednesday
After my workout, I spent 15 minutes trying to get into Gym Locker #48. I couldn't get in, so I found someone (er…the manager…!!) and asked him why I couldn't get into it.
He then pointed out that I had Locker Key #49, aka the one next to it. He looked at me as though I had no brain, and I think I agree with him…!
What did YOU…Wednesday? Tell me about your Wednesday!! Or if you're reading this on Tuesday, tell me about your Tuesday!
What is your current food obsession? Almond buttah!! I do feel guilty though. It's like I'm cheating on my beloved PB…don't worry peanuts, I will return to you always!!
Random Q: Books or Magazines? I love both, but I'm gonna say BOOKS! Mainly cos magazines are overpriced (at least the ones I get are anyway!)