What I…Wednesday
Howdy chicas!! I LOVED hearing your workout accomplishments and upcoming race plans yesterday! Y'all ROCK! Interesting thoughts on the whole bagel/bagel thin thing too…and I've got an email about it actually that I want to share with you guys! I'll have to check first if the sender doesn't mind, but prepare for a slightly controversial post coming up…!
Anyway, it's What I…Wednesday! I LOVE seeing everyone's posts on this!! Jen you are a genius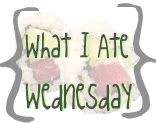 What I Worked:
25 mins upper body weights *cue recycled scary Emma photo*:
…then an hour long spin class. I love spin SO MUCH!!
And today's instructor was the BEST!! She's psychic I swear. Whenever I started to die and let up (SUPER-LONG HILL SPRINTS) she would sense it and yell at me to push harder! Love. Her.
What I Ate:
Just a few highlights for ya!
Sweet Tater-Raisin oatmeal, with tons of cinnamon
Tropical Banana Bread in a Bowl. 1 cup cereal, 1 frozen banana, 1 cup banana soy milk, 1/2 scoop Tropical protein powder, xanthan gum, 1 tbsp coconut butter + shredded coconut. No kidding people you HAVE to try this recipe of Katie's!! It is SO YUMMY!
Polenta cooked with vegan butter and nooch, leftover vegan shepherd's pie (yesterday's dinner), broccoli and red pepper. This was my first ever time trying polenta…I like!! Especially all buttery and noochey…mmm…
Stuffed peppers (stuffed with brown rice in a spicy sauce+ chopped veggies) served with baked tofu and Brussels sprouts
Finished my dark chocolate Easter Egg! Best way to eat it I discovered is by breaking off bits and dipping it in PB. How normal…!
What I Got So Excited About I Wanted To Cry:
That isn't just any copy of Runner's World my friends. That is the special Paula Radcliffe issue!! (If you don't know, I am obsessed with her and she is my idol!)
The woman who saw me taking this photo had the FUNNIEST look on her face!! I wanted to take a photo of HER but I think that would've pushed her to call the crazy institute to take me away, because judging from her expression she was clearly considering it already.
Anyways, I'm off to spend some quality time with Paula. Well, I've already read it (of course!) but I haven't finished memorising it word-for-word yet, so I'd better get back to it!
Best thing you ate today? Dark chocolate egg dipped in PB…heaven!
What was your Wednesday Workout? Or was it a glorious rest day? Tellll me please!!
What was the most exciting thing to happen to you today/this week? Der, Paula Radcliffe issue of RW!!
Have an AMAZING rest of the week friends!! Love you guys SO much!!
P.S. Almost your last chance to email your Friday Fave (sweet_tooth_runner@hotmail.co.uk) if you want to be featured this Friday! See here for details if you're interested!! And I've been asked this twice and just to let everyone know that you DON'T have to be a blogger! If you're a reader and want to be featured then I'd love to hear from you too!!