What I Ate Wednesday
Howdy friends!! Happy Hump Day!
I'm doing it people.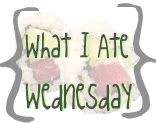 I've been reading about this What I Ate Wednesday for the past few weeks on the amazing Lindsay's blog, and this week, I'm gonna join the fun! Yesterday I asked your opinion on posting my eats for a whole day, after a number of requests, and y'all said DO IT! So I am!
Breakfast:
Choc-PB Banana Bread in a Bowl. 1 cup Ultra-Bran cereal, 1 cup vanilla soy milk, 1 frozen banana, 2 tbsp PB, 1 tbsp cocoa powder and xanthan gum (to thicken), topped with more PB and cacoa nibs.
A 9 Bar. Such love for these
Lunch:
Sweet tater, aduki beans in a tomato 'cheeze' sauce (just tomato sauce+nooch) and 2 mushrooms stuffed with spinach and more nooch. Followed by:
Soy yogurt topped with morello cherry spread.
I then made the first batch of raw vegan cookie dough truffles for Carrie, the (VERY generous!!) highest bidder for them in Katie's vegan bakesale for Japan. I, of course, had to taste-test two of them. You know, to check they weren't poisonous or anything…
The chocolate chips also suffered heavy losses.
Afternoon snackage:
A green monster, and Marmite on crackers x 10000.
Freya was right- those CRACKers are like crack!
Pre-workout:
Another microwave banana oat cake topped with PB (I have these pretty much daily!), and PB+apple on toast:
Oh, and you may have seen on my Dailymile  but I did a 5 MINUTE RUN on grass with NO SHIN PAIN!! I went a bit faster than was advised because I got so excited (avg 6.24 min/mile) but it felt fine! Although it was on grass, and I know that on pavement it will be different, but still! Baby steps!
My full workout today was an hour of Power Yoga + weights.
Post workout: The usual recovery stuff (chocolate milk+broccoli)
And I bonded a lot with my dried fruit and trail mix throughout the day…
It's okay- washing my hair more regularly was last month's goal…!
Dinner:
A BIG plate of WW pasta with tofu-cheeze-spinach sauce (a whole block of silken tofu blended, then combined with 4 tbsp nooch+spinach+spices in a saucepan over a low heat). So filling, and SO full of protein! The sauce alone has about 40g! BAM!
Dessert:
A PB+J stuffed Medjool date…AND my new fave…
Oh yes! Dark chocolate stuffed Medjool date!! Just melt some dark chocolate, put it in your date, and stick it in the fridge for a bit, and ENJOY!! Bliss
So I think I solved a number of 'mysteries' for you:
How I managed to get through a whole bucket of PB in 2 weeks.
Why I am constantly on a sugar high.
Why my blog tagline is 'Fuelled by chocolate'.
Hope y'all enjoyed seeing my eats today! Please note that I do NOT think my diet is perfect in any way (ahem…sugar intake!
), and I'm not suggesting you should eat the same way! What I DO think is that it is SO important for us to eat ENOUGH to fuel our bodies!! I have seen HUGE changes in myself performance-wise, physically and mentally since I started eating the right amount for me, and I really FEEL the difference! Personally, I have stopped reading food blogs that I know have a negative effect on me, as I don't want to be influenced adversely, y'know? I am totally comfortable with how I eat now, and although sometimes I feel a bit weird for eating so much more than my friends, both volume and calorie wise, I just remind myself that I NEED it, and just roll with it!
Phew, that topic is tough and so taboo!!
And I am SO SO excited about tomorrow!! It's a surprise, which you can (hopefully!) read about in tomorrow's post!
Share one thing you ate today! Make me jealous!!
What are your thoughts on this calorie intake/food blogger thing? I think that although it is obvious that some bloggers AREN'T eating enough, most food bloggers don't post EVERYTHING, so I guess you don't really see the whole picture. And everyone is different, so what is enough for one person will be too much/little for another…
What are you excited about for this week? I'm excited about my 'surprise' thing tomorrow and about this weekend…it's gonna be a good'un!
Don't forget, if you have any questions or anything, you can always leave it in the comment section, email me or ask me anonymously on Formspring.
Have a great week friends!
P.S.  I REALLY recommend you read Jenny's amazing post on self-love. LOVE YOURSELF friends! I love you too!!
Ephesians 2:10 "For we are God's masterpiece"